The 2021 Subaru Love Promise Customer and Community Commitment Award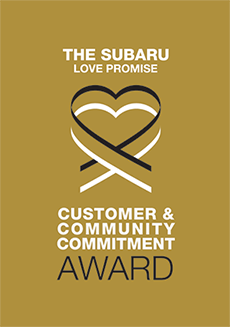 We've been nationally recognized for our dedication to our customers, our community, and the Subaru Love Promise.
We're honored to receive the 2021 Subaru Love Promise Customer and Community Commitment Award. This award nationally recognizes elite Subaru retailers who provide an exceptional customer experience at every interaction with Subaru. These retailers have also demonstrated an outstanding commitment to supporting passions and causes in their local communities in important areas such as the environment, community, health, education, and pets.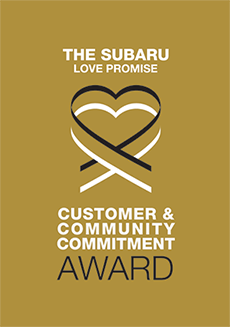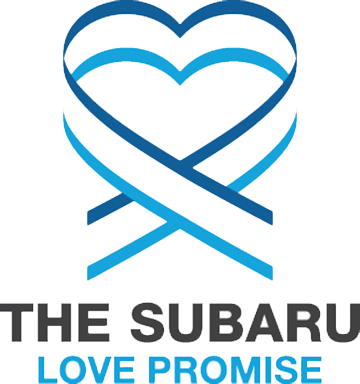 What is the Subaru Love Promise?
Subaru and our retailers believe in making the world a better place and the Subaru Love Promise is our vision of respecting all people. This is our commitment to show love and respect to our customers and to work to make a positive impact in the world.
How is Courtesy Subaru dedicated locally to the Love Promise?
Our Love Promise can be seen in various partnerships with local charities and non-profits. We're grateful for the opportunity, not only to be a part of our community, but to serve it as well.
National Forester Service, Black Hills Mtn Bike Assoc.
Habitat For Humanity, United Way, South Dakota Meals Program, South Dakota Lions Foundation, Young Life
Northern Plains Eye Foundation, SD Lions Eye and Tissue Bank
Love Promise Stories from Courtesy Subaru
Subaru and Courtesy Subaru believe in making a positive impact on the communities in which we live and work. We uphold that belief through our Love Promise Community Commitment. Every month, we select inspiring stories from customers and partners from around our area who strive to support our collective commitment and feature them here
A Car for my dog. - Linda C
I dropped by my Subaru store in Rapid City and let them know Dudley needed his Subaru repaired or replaced. When I told them that Dudley was my dog and his stuffed toy Subaru was beyond repair we shared a good laugh. They had given away all of these toys. I very nice young man ( Braedon)? Went the extra mile and looked everywhere until he found one. The staff in service always goes above & beyond. It is the little things in life that mean the most.
---
Courtesy Subaru sponsors local disc golf. - Scott C
Travis Vessely and Courtesy Subaru of Rapid City are continuing to help the disc golf community in the Black Hills of South Dakota! This year they are going over and above past years by not only assisting with a seasonal sponsorship but also additional funding as the club is hosting the 2021 SD State Disc Golf Championships in September! Their efforts will enhance the clubs to bring quality events to the region. Without caring sponsors like Courtesy Subaru, this disc golf community would look very different. Thank you for the Subaru Love! Scott Caesar Black Hills Disc Golf Club
---
Subaru brings warmth to the Hope Center - Melanie T
With a full week of -0 temps in Rapid City, our supplies of winter wear and blankets were almost wiped out. Minutes before closing on a Friday afternoon, with more -0 temps ahead, the Hope Center was filled with folks dreading to leave the center. To our surprise, a man walked in the door and asked if he could make a donation...4 boxes of lined blankets! Staff started passing out blankets right away, as they visited with guests about their plans to stay warm and safe. What a huge blessing to those we serve! THANK YOU COURTESY SUBARU! The Hope Center is a day center program for those living without homes and in poverty. We serve approximately 200-250 a day.
---
Save Our Scouts - Corey D
The effects of COVID have been hard on our Scouts and our ability to serve them. The Black Hills Area Council provides the backbone to Scout troops in Western South Dakota. Fundraising efforts and popcorn sales have been half the normal amount as individuals and communities try to navigate the COVID challenge, and balance health with risk. Financial losses have threatened our ability to provide Scouting to our youth and even our very existence. Courtesy Subaru was approached about contributing to our Save Our Scouts campaign, in an effort to regain some of the financial losses our council has experienced. Courtesy recognized our circumstances and recognized the value that Scouting programs provide to our communities. Shown in the picture are Scouts providing wreaths to the veteran graves at the Black Hills National Cemetery. Scouts also gather food for local food banks through the Scouting for Food project, where over 25,000 pounds of food are collected annually. These are just two examples of Scouts serving our communities. This would not be possible without support from companies like Courtesy Subaru. Thank you for all you have done to Save Our Scouts!
---
Courtesy Subaru Supports Local Community Theater - Ryan P
Courtesy Subaru has been a longtime supporter of Black Hills Community Theatre (BHCT) in Rapid City, SD. BHCT relies heavily on the support of local businesses in order to be able to provide quality theatre to the Black Hills region and Subaru has been a Playbill advertiser for several seasons. During the struggles that 2020 brought, especially the ones affecting live theatres, this support was even more needed. Courtesy Subaru once again came through for us and even upped their generosity by moving to a Mainstage Show sponsorship level. It is this type of generosity that keeps local arts thriving.
---
Sharing the Love for Affordable Housing - Kimberly W
The impacts of this health crisis and the voices of the social movements of 2020 have shone a brighter light on the need for safe, decent, affordable housing across our nation's communities. For 30 years Black Hills Area Habitat for Humanity has faced the battle of inadequate housing by building over 110 homes and making over 70 critical home repairs throughout the Black Hills. In March of 2020, Habitat was forced to close our sites to volunteers and stop all interior repair projects in order to protect the community we love. This crisis raises the questions; How can you shelter in place without an adequate roof over your head? How can you wash your hands without a working sink? How can you social distance when you are living in an overcrowded Our success in addressing the affordable housing problem comes only with local support from individuals who recognize these needs. Travis Vesely, General Manager of Courtesy Subaru and his family have been consistent supporters of Black Hills Area Habitat for Humanity throughout the years. Travis's relationship with Habitat has grown in small ways over time and expanded when our office relocated across the street from the dealership. This proximity has increased his awareness of our mission and the families we serve. Last year, Courtesy Subaru with Travis's leadership chose Black Hills Area Habitat for Humanity as their 'Share the Love' recipient. We are honored that Travis's team understands the affordable housing crisis and believes in Habitat as the solution. The presentation of $20,000 in March was a timely blessing and helped answer those questions for one local family. The funds allowed us to complete a home for Michael, a local veteran in need of affordable shelter. With the support of Subaru, Travis, and the community we were able to complete his home in time for the Holidays. Now Michael, his daughter, and five grandkids have safe, reliable shelter to be thankful for this Holiday Season!
---
Courtesy Subaru Shares the Love for Sight x 2 - Ronda G
With the effects of the coronavirus pandemic still very present across our community, Northern Plains Eye Foundation in Rapid City, SD, was forced to make the tough decision to cancel our only annual fundraiser, Casino Royale Charity Affair, planned for Saturday, September 26. Although we were hugely disappointed, with still so many uncertainties and wide-ranging concerns, we could not risk the safety and wellbeing of our Foundation, event sponsors, volunteers, guests, and community. With our 2019 Casino Royale raising almost $30,000 in net proceeds, the decision was a hard hit to our program funding that supports important and unduplicated outreach across our community including free vision screenings for young children, eye exams, glasses and sight-saving surgeries for the economically disadvantaged, and vision-related education and research projects. We decided to carry forward our Casino Royale fundraising "social distancing style" and our local Subaru dealer, Rapid City's Courtesy Subaru, generously jumped in to offer its support – not only donating their usual sponsorship fee but doubling their contribution this year to help sustain our outreach during these challenging times. Subaru's Share the Love Promise is alive and well at Courtesy Subaru! Courtesy Subaru's culture of supporting the community outreach of Northern Plains Eye Foundation, along with dozens of other nonprofits in Western South Dakota, means the world to us and those whose lives are touched by their philanthropy.
---
Supporting Local Teachers - Meadowbrook Elementary P
Courtesy Subaru is supporting its own community's teachers during a very challenging year. Meadowbrook Elementary has an Adopt-A-Class program that reimburses teachers directly for items purchased with their own money. During this COVID-19 school year, teachers have used this money to purchase literacy supplies, masks and accessories, distance learning tools, and supplemental learning supplies. We are grateful for the support! Meadowbrook Elementary PTA
---
Reaching 45 communities with Subaru's help - Anna Q
Meals on Wheels Western South Dakota's programs reach 45 communities in the region. And Subaru helps us get there! Recently, Anna (Director of Outreach and Communications) and Jodi (Development Specialist), connected with some of our area sites providing support for the services and programs that are so important to our participants! Did you know that just in the northern hills area, there are sites in Sturgis, Belle Fourche, and Newell? We are so thankful for the Subaru Outback which was donated through the Subaru Loves to Give Program from Subaru of America, Inc.. The vehicle helps deliver meals to vulnerable seniors so they can stay independently in their homes. The impact of Subaru's support is great and with their support we continue to work to ensure that no seniors go hungry!
---
Providing hope & comfort to blood cancer patients - Shannon B
On June 24, Courtesy Subaru and The Leukemia & Lymphoma Society (LLS) spread love, hope and warmth to both blood cancer patients and families currently being treated at Regional Health-John T. Vucurevich Cancer Care Institute. Subaru customers and employees wrote personalized messages of hope, which were then handed out alongside donated blankets and craft kits to provide comfort to patients at Regional Health-John T. Vucurevich Cancer Care Institute. South Dakota native Melony Filipi represented LLS by accepting a blanket on behalf of families like hers that have been affected by blood cancer. Melony's mom was diagnosed with acute myeloid leukemia (AML) on January 8, 2014. Her doctors immediately began chemotherapy, but her best shot of long-term survival was a stem cell transplant. After finding a donor match all the way in Germany, Melony's mom sadly passed away during recovery due to complications from the transplant. Melony shared, "All of the information and support given by The Leukemia & Lymphoma Society greatly impacted us and gave us peace of mind. LLS was such a strong support system with all of their great resources, so I'm thrilled to partake in this special event from Courtesy Subaru alongside LLS. Thank you for helping the community in such a tangible way!"
---
Share the Love with Battle Mountain Humane Society - Connie G
We would like to Thank Courtesy Subaru for Supporting Battle Mountain Humane Society with the generous donation. We really appreciated this opportunity to partner up with Courtesy Subaru during the 2018 Share the Love Event. Battle Mountain Humane Society received a total donation amount of $14,333 which will help us to continue to be able to provide the care for our 60 dogs and 40 cats with food, vet care which includes spaying and neutering for all the animals in our current care at our No Kill shelter. We have saved over 1,000's of animals over the years. Thank you again to Courtesy Subaru for this much needed donation to help us continue to save the abused and abandoned animals. We are so grateful for this donation and support as we operate solely on donations. BMHS couldn't continue our Mission without your HELP!!
---
Volleyball - Paige M
My name is Paige Miller and I play for Black Hills Juniors Volleyball. I went into Courtesy Subaru to ask for a monetary donation and was super nervous because I had never done this before. I met with Travis and asked him for a donation, he made me very comfortable and he made it very easy for me to do something difficult. I really appreciate what he did for our club.
---
Meals on Wheels delivers Blizzard Meals - Cheree P
Meals on Wheels Western South Dakota is gearing up for winter delivering blizzard meals to our homebound seniors in Western South Dakota. Pictured is Ron and Dave from Black Hills Area Bikers loading the Subaru Outback donated by Subaru of America. This year we will be delivering 1000 blizzard meals. The blizzard meals are used in the event we have a storm and unable to reach our homebound seniors. Thank you, Subaru of America, for such a generous donation enabling us to continue to serve the seniors in western South Dakota. Thank you, Ron and Dave, for ensuring each meal delivery route had the proper blizzard meal count. We could not have done it without you.
---
Meals on Wheels Western South Dakota - Cheree P
Another busy week at the Meals on Wheels kitchen in Rapid City. Over 500 meals daily were served to local seniors. A big thank you to Ed, Clayton and Tim for delivering three routes this week and Subaru of America for the Subaru Outback to help with the deliveries. 103 people reached.
---
Courtesy Subaru Supports Youth MTB Riding! - Kent J
Courtesy Subaru has long been a support of the Black Hills Mountain Bike Association and this year is no different. Courtesy came through with great support for our newest Youth activity, a 5 city race series aimed at getting Elementary, Middle School, and High School kids out on Mountain Bikes and falling in love with riding and the outdoors. Many Thanks! to Travis and Courtesy Subaru!
---
Subaru Loves to Give and they have - Cheree P
Subaru Loves to Help and they have. With this last winter road conditions being a challenge, Meals on Wheels Western South Dakota has been able to continue to deliver meals to seniors with confidence in our Subaru Outback. During March for Meals Community Champions week the Subaru was used to deliver meals with our volunteers and city officials. The Subaru and Meals on Wheels partnership is a part of Subaru Loves to Help, a pillar of the automaker's larger Subaru Love Promise community commitment effort dedicated to making a positive impact on local communities across the country. Thank you, Subaru
---
Country Meals Senior - Cheree P
Carlton Carson is a 76 year old veteran who has been on the Meals Program since 2003. Mr Carson has numerous health issues that prevents him from cooking nutritious meals on a daily basis. His only living relative is a sister who is unable to assist him with his cooking. Mr. Carson says he not only enjoys the daily meals but the visits from the volunteers that deliver to him. With out Meals on Wheels Mr. Carson would not be able to continue to live independently in his own home. With the winter months in South Dakota so unpredictable the Subaru Outback gives our seniors piece of mind that we will get there with their meals.
---
Courtesy Subaru sponsors YMCA youth memberships - JoAnn S
Youth sponsorship memberships keep the Y available for kids who need it the most. With their gift of $500, Courtesy Subaru has joined with other donors to the YMCA Kids Campaign to help all kids from all walks of life be more healthy, confident, connected and secure. By giving to the YMCA they are helping to nurture the potential of kids and teens in the community. They are truly making a difference in the lives of youth by providing kids the opportunity to be at the Y, participate in youth sports, summer day camp or after school programs. This in turn helps kids develop academic skills, leadership and social skills, self-esteem conflict resolution abilities and hobbies which can change their lives. Courtesy also sponsored a table at our Masquerade Ball and Auction which was a fund raising event for the Kids Campaign. The YMCA so appreciates their support.
---
Subaru LOVES disc golf! - Scott C
I am the fundraising guy for the Black Hills Disc Golf Club. When I approached Travis Vesely about sponsoring our club and supporting disc golf in the region, he said yes without hesitating. The sponsorship we received will assist the sport we love in many ways: Keeping entry costs lower, helping us grow the sport to schools and other groups. The club has a basket and disc loan program (generally used by schools.) Our February "Ice Bowl" (pictured) has raised over $15,000 since 2002! Community sponsors are extremely important to small groups such as ours. Thank you Subaru! Scott Caesar BHDGC
---
2nd Annual Sporting Clays Fundraiser - Sterling R
The Society of Petroleum Engineers is the largest organization serving upstream oil and gas professionals and students. Our student chapter here at South Dakota School of Mines and Technology hosts monthly lectures, participates in industry visits, and attends national symposiums so that our members gain a greater understanding about the petroleum industry. This year we put on our 2nd Annual Sporting Clays Competition which is our main fundraiser that supports the aforementioned activities. We asked local businesses for assistance by sponsoring a station at the event. Courtesy Subaru graciously agreed to support our fundraiser by sponsoring a station. The 2nd Annual Sporting Clays Competition was a huge success and raised even more funds than last year. There were people from industry, the local community, and our students all together having a blast. The fundraiser was enjoyable, neighborly, and most of all a huge success. We could not have done it without the Courtesy Subaru's generous support.
---
Fundraiser Donation - Megan H
I purchased a new Subaru in December. The sales manager, Derek, is friends with my dad. I have know Jamie in parts since we were in grade school. Shortly after I purchased my vehicle, a co-worker of mine was diagnosed with brain cancer. We decided to do a fundraiser for her. I contacted Jamie and he was able to arrange some items that we were able to put in a basket. I'm always impressed with how kind everyone is at our Subaru dealer
---
Rushmore Thunder Hockey Boys Varsity Team - Kirstie D
A huge THANK YOU to Subaru for their donation and support for the BV Team and RHA. Subaru was excited to help out the community. The boys and parents were very appreciative and thankful for their support. The Rushmore Thunder Hockey Boys Varsity Team has been invited to compete in the 2017 Toyota National High School Hockey Tournament in Cleveland, Ohio March 30-April 3. This is a true testament to the success of our local hockey program! The tournament invites 16 teams to participate in the high school level. We are very proud that the boys earned their invitation. Thank You, Subaru!
---
Amazing work with Suicide Prevention Coalition - William J
The folks down at Courtesy Subaru have always stood for bigger causes than most people realize. I've always been proud to hear the ads over the radio about them helping local charities over the last few years. This year I decided to hold a fundraiser for a local, non profit suicide prevention coalition by holding a snowboard movie premiere. Here in the Black Hills, the winter consumes half of our year typically, and Subarus are abundant. When I decided to start finding support for my fundraiser, I instantly thought of Courtesy Subaru. Within a blink of an eye, they hopped on board with my idea and donated a very generous amount to help the coalition directly which was the entire idea of the fundraiser. This local coalition services several counties around the Black Hills and also the Pine Ridge Indian Reservation. They are called out about 2,300 times a year and they do amazing work, but this is another year in a string of funding cuts from the state because it's not an official state run program. South Dakota sits in the top ten for highest nationwide suicide rates, which isn't something to even be remotely proud of. Our area that is serviced by this coalition also has a rate that is three times the national average per capita each year, another crippling feat for our state. With Courtesy Subaru'a generous donation, the coalition will be able to continue to service our area and be able to hold clinics and seminars about suicide education, awareness, and prevention.
---
Canyon Lake Little League All-star team - Leah O
On July 25th, The Canyon Lake Little League All-star team won the district championship. The team will now represent not only Rapid City but South Dakota/North Dakota in the Midwest tournament in Indianapolis. As you can imagine the boys were very excited with this win. However, with the excitement also came some pretty major travel expenses. So on July 27th, the boys started fundraising. The people at Courtesy Subaru were so kind to the boys and made them feel at ease about fundraising. The gift we got from Subaru was very generous. This is a company that truly supports its community! As we were walking out one of the players said, "I see why they are called COURTESY Subaru!" Thank you for supporting the community, the youth in it, and these baseball dreams! We will do our best to represent Rapid City and the great people who live here.
---
Commitment to Air Force Sergeant Association #951 - Jessica Y
Hello, I am Jessica Young and I am the President of the Air Force Sergeants Association, Chapter 951, here in Rapid City, South Dakota. AFSA is a federally-chartered nonprofit, tax-exempted international organization that advocates for numerous professional and quality-of-life concerns such as basic pay and allowances, healthcare, retirement programs, and educational benefits that impact Air Force enlisted personnel—Active Duty, Guard, Reserve, Retirees, Veterans, and their families. With nearly 115,000 members around the globe, AFSA is truly "The Voice of the Enlisted" on Capitol Hill and in the Pentagon. Locally, Chapter 951 helps support over 5,000 military members, veterans, and their families each year. During the spring of 2015, I entered into seeking to gain donations from Courtesy Subaru for our Annual Honoring Our Patriots Concert & 5K POW/MIA run. I was directed to speak with Mr. Travis Vesley. Our goal was to go into the community and solicit donations to help our veterans throughout the country. He was more than excited to helps us out. Last year, we raised a total of $9316 that was fair shared between 14 local organizations as well as donated to the 3 national charities noted in the previous paragraph. Our goal in 2016 is to raise $16,000; representing $1 for each Airman from Ellsworth AFB who has deployed since 9/11/2001. Sponsorship from Subaru helps us know that the community truly cares....they've stepped up this year and kept their promise.
---
Courtesy Subaru Loves Schools in the Black Hills - Anita S
Accolades to Courtesy Subaru (Rapid City, SD) for supporting Custer School District's Destination Imagination teams! Two Custer School Destination Imagination teams qualified for Global Finals in Nashville, TN: an exciting event where they will showcase their challenge solutions (one team of second & fourth-graders developed a drill-powered car), celebrate creativity, learn from other students, and attend workshops given by top innovative industry experts from across the country. And yet, to participate, our Custer school teams need to raise a daunting $1,000 per child (approx.) to cover costs of registration & travel to/from the 1480-miles-from-home event. After speaking with Travis V. at Courtesy Subaru, he said they would donate $300 toward our team's participation in the event...And then, shortly afterward,Travis sent an unexpected email saying he would gladly up their donation. Courtesy Subaru generously donated $500 to Custer school's teams, which will be used toward registration fees for this amazing event (where over 7,000 students from over 15 countries will participate). And now, the Custer students are well on their way toward an exciting adventure in learning, leadership, and innovation... Thank you, Courtesy Subaru (and Travis V.) for your generous community support! Drive on.
---
Subaru Loves the Earth - E-Waste Event - Danielle S
We would like to thank our customers for participating in our E Waste Recycling event during the month of April. With your help, we were able to prevent 2,090 lbs of carbon emissions from polluting the atmosphere. This is equivalent to saving 81 trees, 356 gallons of gasoline, 3,030 plastic bottles, and 13,936 aluminum cans. Thank you for helping strengthen the Subaru Love Promise!
---
Fill the Forester - David H
During Subaru's 2014 Share the Love Event, we teamed up with Make-A-Wish South Dakota to help get wish kids excited for their wish. Many Make-A-Wish experiences begin with a toy for a wish kid as a way to break the ice. So to help with a crucial part of the Make-A-Wish process we had a "Stuff the Subaru" toy drive with all toys collected to stay in South Dakota. We are proud to have helped such a great organization in their quest to grant the wishes of kids with life-threatening medical conditions. Our employees and customers really stepped up, and Filled the Forester.
---